Early Years Foundation Stage
Early Years Foundation Stage
Early childhood is the foundation on which children build the rest of their lives. At Scotch Orchard Primary School, we greatly value the importance that the EYFS plays in laying secure foundations for future learning and development. Our Nursery and Reception classes make up the Early Years Foundation Stage.
The EYFS is based around four themes. These are:
• A Unique Child
Every child is a unique child who is constantly learning and can be resilient, capable, confident and self-assured.
• Positive Relationships
Children learn to be strong and independent through positive relationships.
• Enabling Environments
Children learn and develop in enabling environments, in which the provision responds to individual needs and there is a strong partnership between practitioner and parents and carers.
• Learning and Development
Children develop and learn in different ways. The curriculum covers education and care of all children in early years provision, including children with special educational needs and disabilities.
Our curriculum is also split into Characteristics of Effective Learning and Areas of Learning and Development, which are all interconnected.
Characteristics of Effective Learning are the ways in which each child engages with other people and their environment;
Playing and Exploring
Active Learning
Creating and Thinking Critically
Areas of Learning and Development are split into Prime and Specific Areas: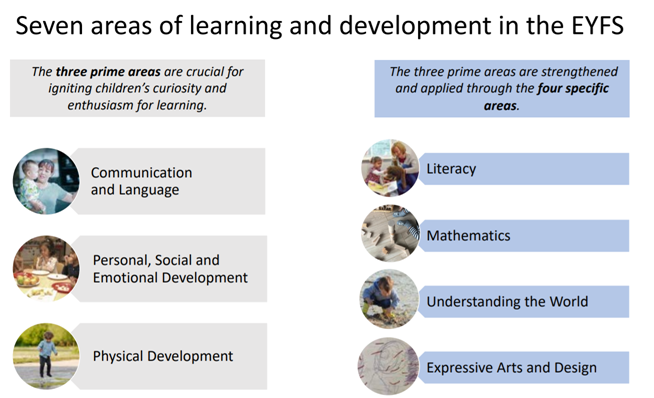 Prime areas are fundamental, work together, and move through to support development in all other areas. Specificareas include essential skills and knowledge for children to participate successfully in society.
At Scotch Orchard Primary School we deliver the EYFS through a curriculum which is centered around topics and themes which the children help to generate. We strive to provide the children with an experience which they will find exciting, engaging and rewarding. We look to build on their previous experiences and prepare them for later learning, building the child's schema.
We are also lucky to have a forest school area to investigate, see wildlife and changes in our natural environment. Books are at the heart of our EYFS curriculum, and we use stories to learn about the world, ourselves, and each other.
The Early Years Foundation Stage Framework (EYFS) sets out the learning and development stages for children as they grow from birth to the end of Reception year at school. The purpose of the booklet below is to help you as a parent/carer find out more about how your child is learning and developing during their early years, in relation to the EYFS.
Phonics in Early Years
Please read the information sheet below to read more abour our phonics provision within Early Years:
Click here to watch a video about Phonics at Scotch Orchard